Here at Kingsland we love books so much we opened our very own Kings bookshop. It is located adjacent to the cafe and you can make a purchase at any time the cafe is open.
Our biggest seller at Kings bookshop is, unsurprisingly, the Bible. We stock a wide variety of Bibles in different translations, sizes and colours. Our colourful children's Bibles are especially popular.
We stock books by Christian authors past and present, from C.S Lewis to Philip Yancey, with new books being added regularly.
We are also proud to support local Christian authors and sell releases from a number of writers based here at Kingsland.
In the bookshop, you will also find a selection of art produced by some of the members here. Some of the works are for sale, and can be purchased at any time the cafe is open.
If there are any books you can't find at Kings and would like to see then let us know, we'd love to hear from you.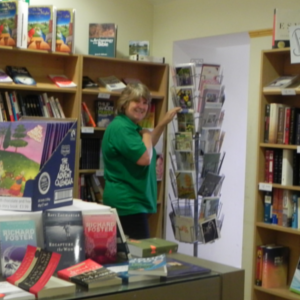 lots of good decent books in at the moment – with a series of Christian classics for only a pound!