The Men's work here at Kingsland is growing, and growing fast. We are very fortunate to have a tremendous bunch of guys of different ages and with different experiences who mix really well with each other. There is always a great atmosphere when we meet, and newcomers are warmly welcomed and feel part of the group straight away.
What we do
We are really keen to help our men grow and develop in their relationship with Jesus. We want to see men encouraged to be all they can be in Him. We aim to help men learn how to hear from God, to trust in Him for all the things they need, and to find their purpose in Jesus.
Our activities:
There are a number of activities you can get involved with: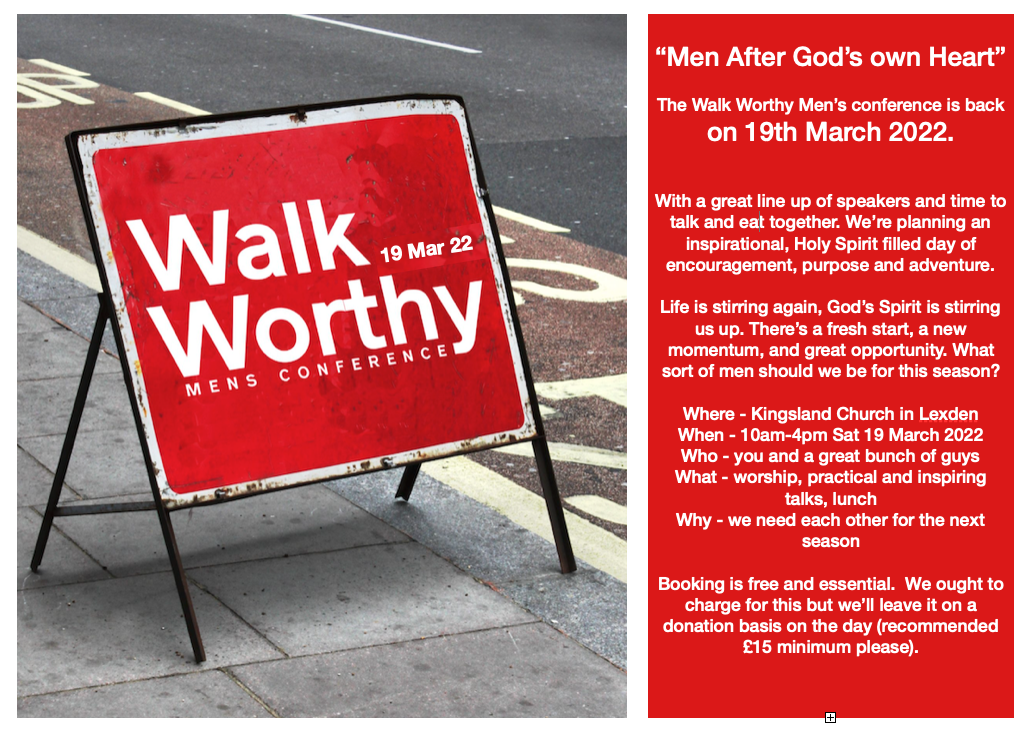 Walk Worthy is our annual Men's conference held in February each year. An inspiring day of great worship , teaching and food! The next walk Worthy is 19th March 2022.
Men's breakfast: Once a month, on the first Saturday at 8.30, we meet to enjoy a cooked breakfast followed by an informal time of worship and prayer together. It is a very popular event and a fabulous time during which we can get to know each other better
Socials: We run social events to enable more new friendships to be made and existing friendships to deepen in a happy and relaxed environment
One-to-one: We have a number of disciplers who meet one-to-one and encourage growth in faith and discipleship.
We look forward to welcoming you! For information about the men's ministry contact Ian now!