This summer. Make a spiritual highlight!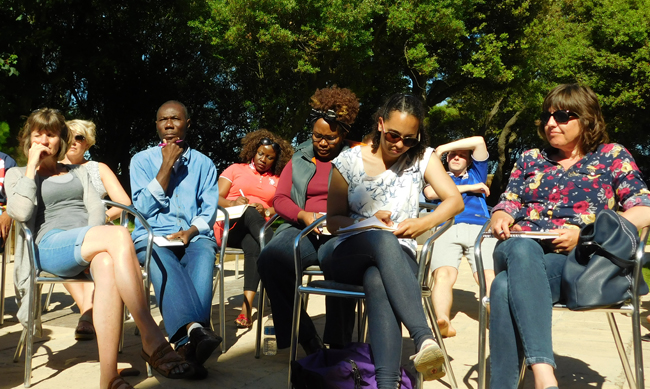 We're offering a variety of opportunities to learn, experience, or share in a new setting
Some of the existing groups will want to opt into a group or programme together, others will be able to carry on, but for most of us a change is as good as a rest and this is a great opportunity to meet new people, make new friends and learn new things.
Please join in by choosing a group - or even 2, and contacting us here.
Pathways to Peace  with Gail Mitchell
Learning to be aware of God's presence in your every day life.
Four sessions  on hearing form God in the everyday and engaging with Him moment by moment.  The sessions will include listening prayer, soaking and silent prayer and how to hear God's voice. You'll also discover how God has wired you to hear from him.
Wednesdays 31 July, 7, 14, 21 Aug. 8pm. Joel room
God at the Movies with Jo Wood
Have you ever thought there's more to the 'message' of a film but are not sure how to explore it?
Five sessions on experiencing God's voice in film, how He might use it to speak to you and to engage with the wider world.  You will need to be prepared to watch the film we discuss each week beforehand and come prepared to share your thoughts and views.  We'll also cover some basic film 'theory' to help us. 
Mondays 22, 29 July, 5, 12, 19 Aug. 8pm. Samuel Room
Spiritual MOT with Ian Davies
Geared up to go forward
An opportunity to take stock, be inspired and re-encouraged for the next season. Lots of hints and tips on reading the bible, personal prayer, making the most of church, using our gifts, etc in a supportive and encouraging environment.
Monday afternoons, 29 July, 5, 12, 19, Aug. 2pm. Esther room
Christian Advisory Service training with Tony Mann
a fast track to being helpful in our advisory service…
KAS is morphing into tCAS (the Christian Advice Service) and other churches are looking to join us. This training led by Tony Mann will be a fast track to being effective in the advisory service...
- practice taking an 'enquiry' and identifying key issues
- teach you how to use our innovative web apps to find the answers to people's queries and problems
- experience how to pray for people in need and use spiritual warfare 
- learn how to teach others how to recognise when their neighbours or friends would benefit from help
The training will 'certificate' you. 
Tony has offered to run this on demand - so please include days and dates you are available!
PrayerComms with Bolaji & Samuel Sofoluwe
PrayerComms: Listening, Speaking, Hearing and Seeing. 
God never meant for the Bible to be the last expression of His will for His people. He wants to inject the very essence of Himself in our lives by communicating with us on a daily basis, whilst we discover more by reading His Word. 
This group will be fresh, fun, dynamic and interactive  - combining video, audio, reading material and of course, great times of prayer!
Thursdays 18, 25 July, 8, 15 Aug. 8pm. Daniel room
Storytellers & Movie Makers with Michelle Tennens
A 4 week exploration of storytelling
During this 4 week adventure we'll learn about the story arc that script writers and film makers use to create compelling stories. Using this technique we'll  look afresh at Peter and James to discover new depths of their stories that compelled them to become the heroes and saints of the Gospel that still inspire us today!  Finally, we'll turn the lens to your story and see how your character is being transformed by the Holy Spirit as you play your part in God's everlasting story of redemption.
This series builds week-by-week so it is crucial that you attend all 4 sessions in order to get the most from this adventure. All sessions will be in  King's Café:
Session 1 – The story arc: Mon 22 July, 3pm  / Tues 23 July, 8pm
Session 2 – Peter's story: Mon 29 July, 3pm / Tues 30 July, 8pm
Session 3 – James' story: Mon 12 Aug, 3pm / Tues 13 Aug, 8pm
Session 4 – Your story: Mon 19 Aug, 3pm / Tues 20 Aug, 8pm